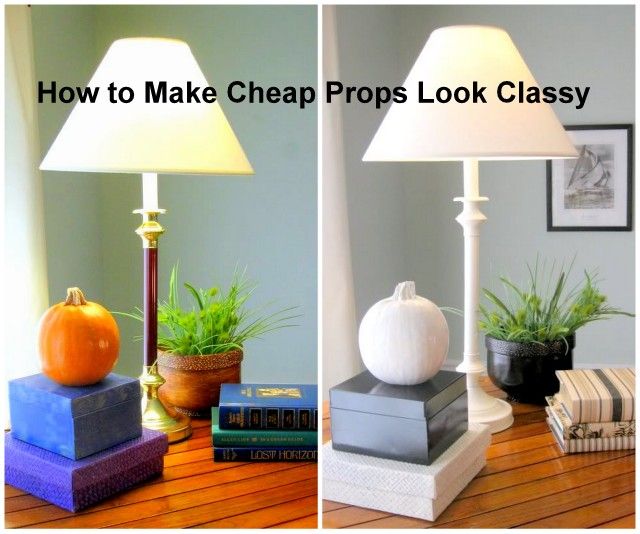 Home staging calls for some pretty props. One simple formula for turning a collection of mismatched junk into pretty props is to pick a color scheme and go with it.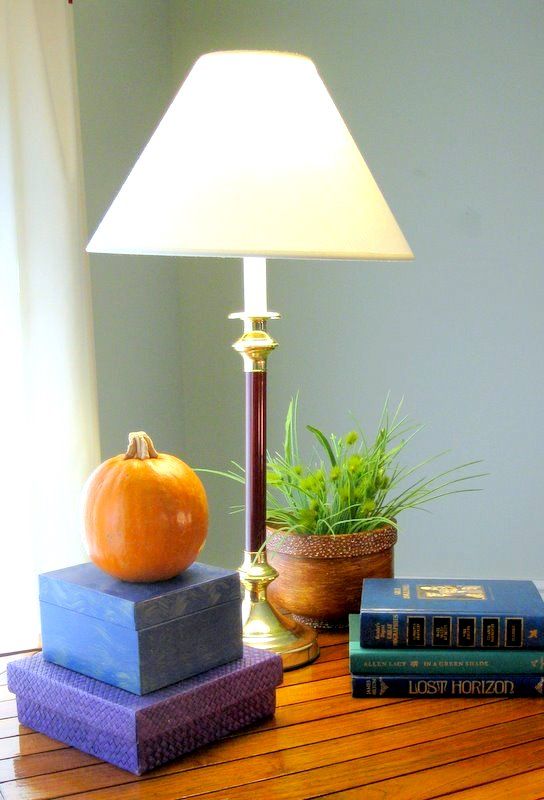 Here's my example.
I chose black and white as my colors. When in doubt, this is your default color combination. Call it ivory, cream, oyster, bone, alabaster, ebony, midnight, charcoal, inkwell, or any other descriptive tags paint companies want to dream up.
I didn't start my tablescape with anything pretty. Scroll down and take a peek at what I had to work with -- just a bunch of odds and ends I gathered. I didn't want to scare you by starting my post with ugly.
Scroll a little further down the page for some delightful musical accompaniment. Can you guess the song?
First I taped off
the parts of the lamp I didn't want to get spray painted white -- the bulb socket and the cord. I always use white lampshades, so that was all set. I sprayed the lamp, and while it was drying, I brushed the pumpkin.
I actually staged this tabletop last autumn, and only recently discarded the pumpkin -- 6 months later -- for showing signs of mold. I can't think of other vegetables that would hold up as well, but plastic fruits and vegetables are always in season!
I brushed
the woven box with the same white latex semi gloss paint I used on the pumpkin.
I used black and white wallpaper samples from the book I discussed
here
. It's a snap to cover books. Just measure, cut, and fold.
I spray painted
the blue metal box and the brown planter, using black. Every stager needs a stash of black and white spray paints.
Then I went hunting for a black and white print to hang behind my new vignette. Classic black and white shots are everywhere -- notecards, postcards, magazines, old photographs, gift shops, catalogs, even newspapers. Your frame can be simple, like what I chose, or ornate. Your magical color scheme makes it all work together.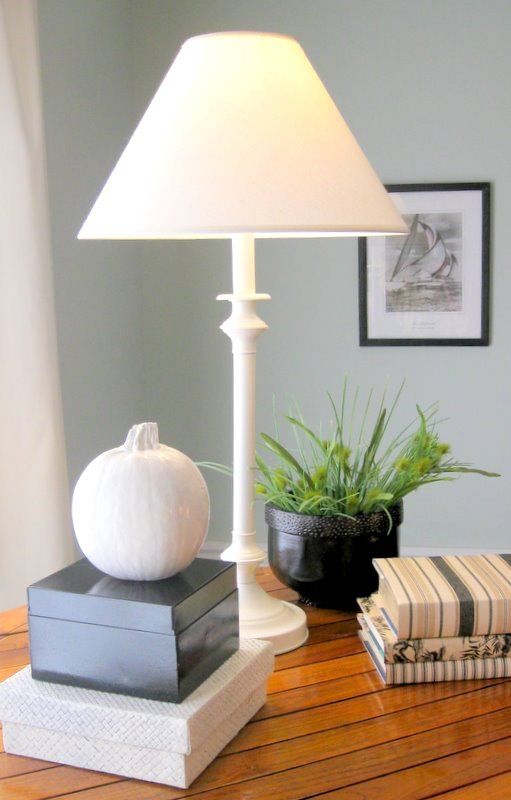 In no time,
what was a fairly ugly assortment of odds and ends came together to form a sophisticated and pleasing vignette. Make sure your collection has a variety of shapes, sizes and textures.
There are plenty of other budget-friendly ways to add style to your home when it's time to sell. When house hunters look at homes, they usually look at lots of them. Make your home be the one they remember and want. My home staging
eBook
can help you uncover the best in your property, and show it off for buyers.
Download your copy
now, and let the staging begin. It's easy when someone who's been there already can show you the ropes. My book will help you sell your home faster and for more money. Turn your home into cash. I show you how.