Mulching makes a huge curb appeal difference.
Because in some areas of the country, many of us (lucky ones) are finally able to get out and freshen up our yards, I chose this week to focus attention on landscaping.
I'm doing it
on Facebook. Won't you join me?
Did you know that by clicking on my Facebook icon in the sidebar, you can receive a helpful Tip of the Day?
Starting this week, I'll be choosing a different topic each week and posting these tips on Facebook's DIY Home Staging Tips Group.
Next week
, I'll be offering up tips on thrifting, and in future weeks, I'll pass along my favorite pointers on topics of concern to DIY home stagers, like:
photographing your home
trends to ignore
helpful websites
new products
common pitfalls
bedroom tricks
book recommendations
supermarket props
catalogs for inspiration
buyers' pet peeves
DIY insider tips and secrets
project management
vacant property tips
and lots more
The Facebook Group is also a way for you to connect with other home sellers, DIYers, decorators, crafters, renovators, realtors, investors, and others who are interested in home staging. You can easily access me to ask a question or tell me about your own project, start a conversation with other group members, or post your own helpful hints.
I love
Facebook. I hope you'll decide to become part of the group. What could be easier? Just click!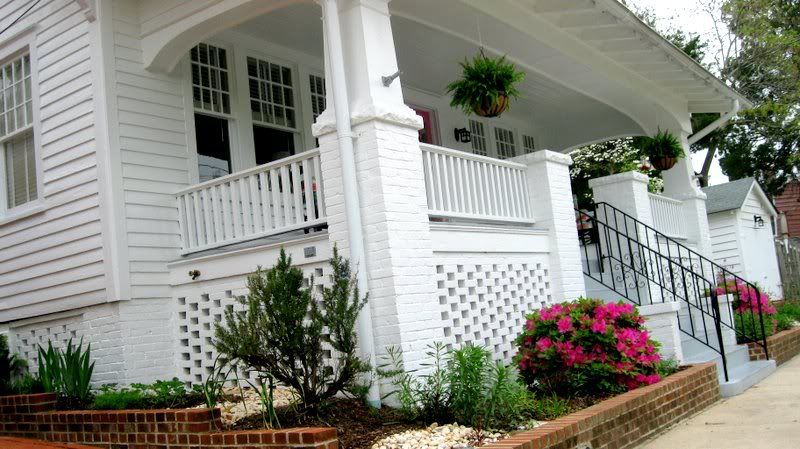 Outside staging is alot like inside staging. It's all about being neat and clean.
When you're selling your home, your landscape is just about as important as your home's interior, and maybe even more so. It's the first thing buyers see.
Most of us
have heard tales of buyers falling head over heels in love with a house when they first laid eyes on it as they drove by. At the same time, many homes sit on the market month after month because no one would guess how lovely they are judging by the curb appeal.
Spots of color liven the landscape.
I hope my Facebook tips this week will help you fine tune your home's curb appeal, that all-important aspect of putting a home on the market.
Want more on how to boost your home's curb appeal?
One chapter of my eBook,
DIY Home Staging Tips to Sell Your Home Fast and For Top Dollar
, is all about staging your landscape. Landscaping is one topic I am passionate about. Like the rest of the book, it's full of down-to-earth advice that's helpful, practical, frugal, and illustrated -- written specifically for the DIY home stager.
Is that you? Then, download my book to help you through the home staging process. You have only once chance to impress buyers at the get-go. My book will help you get it right, so that buyers see the real value in your home.
Photo: Fine Gardening